Best Winter Dog Walks in the UK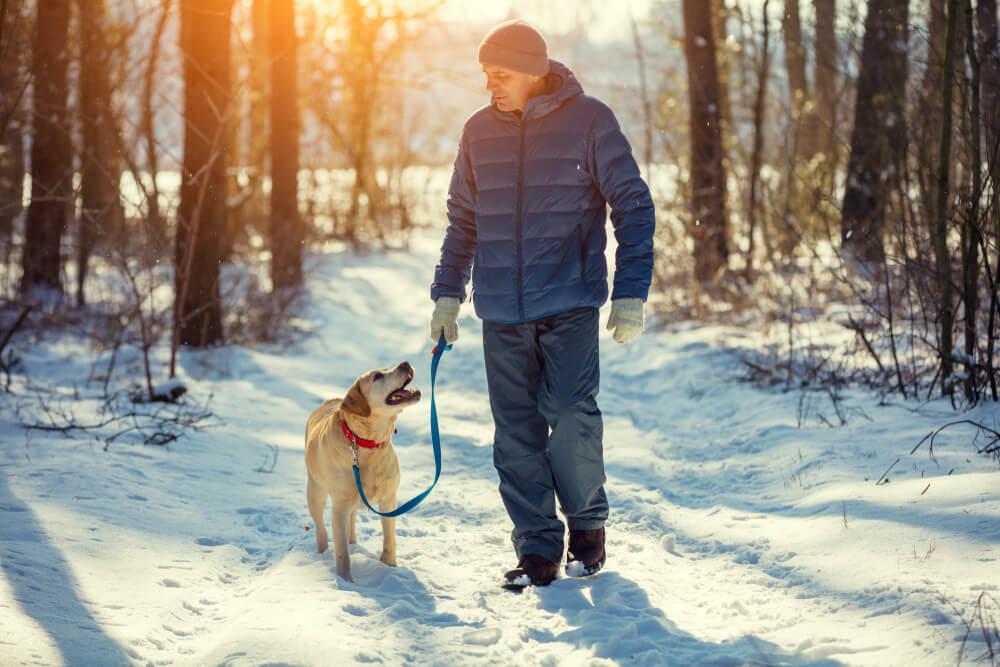 Many people aren't keen on winter. It's cold, it's dark and it's a nightmare to defrost the car in the morning. But while many loathe the gloomy weather and bitter winds, other seasons don't offer the same dog walking opportunities that winter does. From empty beaches for your pooch to go wild on, to crisp walks through the scenic woods, followed by some well-needed relaxation in a cosy dog-friendly pub, winter offers plenty of opportunity for you and your furry friend to get your walking boots on. Here are some of the finest winter dog walks you'll find this season in the UK.
Widemouth Bay, Cornwall
Does a deserted beach sound like the perfect play area for your beach baby? Then take a trip to Widemouth Bay in Cornwall to get your seaside fix. As beaches will a lot quitter around this time of year, your dog will have the time of his life running through the varied landscape of sand and stones while you take in the gorgeous Cornish coastline. And with plenty of local cafes and pubs nearby, there's plenty more to enjoy at the end of your coastal walk.
Nettleton Valley, Lincolnshire Wolds
Winter is the perfect time for a good long stroll through Nettleton Valley in Lincolnshire. With less cattle and fewer walkers getting in your way on the popular routes, you'll be able to take in the stunning landscapes and clear winter air without distraction. This scenic walk will take you among the hills and peaks of the area, where you'll also be able to find some local history too. Along this walk, you'll find the sealed off tunnels of the ironstone mines, which was a popular industry that helped build the local community. After your walk and history lesson is over, you'll find yourself in Nettleton where you can relax and take in the local sights with your furry bestie.
Dunkery & Horner Wood, Exmoor
If you're looking for a dog walk that's going to tire out your energetic pooch, then this is the walk for you. Encompassing a 3-mile walk that will take around an hour, this is one walk guaranteed to stretch all four doglegs. As you make your way through Dunkery & Horner Wood, you'll come across a variety of different sights, including streams, footbridges and a bridleway. And of course, you'll find the full breathtaking view of the countryside along your journey.
Roundway Down, Wiltshire
A wonderfully therapeutic walk for you and your four-legged friend to take in the wintertime, Roundway Down provides walkers with a stunning view of the Wiltshire countryside. This walk also features a wide range of history, as it is the site of the famous 1643 civil war battle where a Royalist cavalry force under Lord Wilmot gained victory over the Parliamentarians. You'll also find Oliver's Castle, an Iron Age hill fort named after Oliver Cromwell.
Longshaw, Derbyshire
With its frosty meadows serene woodland environment, Longshaw Estate is the perfect destination for a winter dog walk. With its vast range of landscape including streams, bridges and footpaths. And once your walk is over, you'll find yourself at Longshaw Lodge. Here, you can stop off for a hot drink and bite to eat in the visitor centre tea room, while your furry friend can relax after a refreshing stroll.