An interview with Support Dogs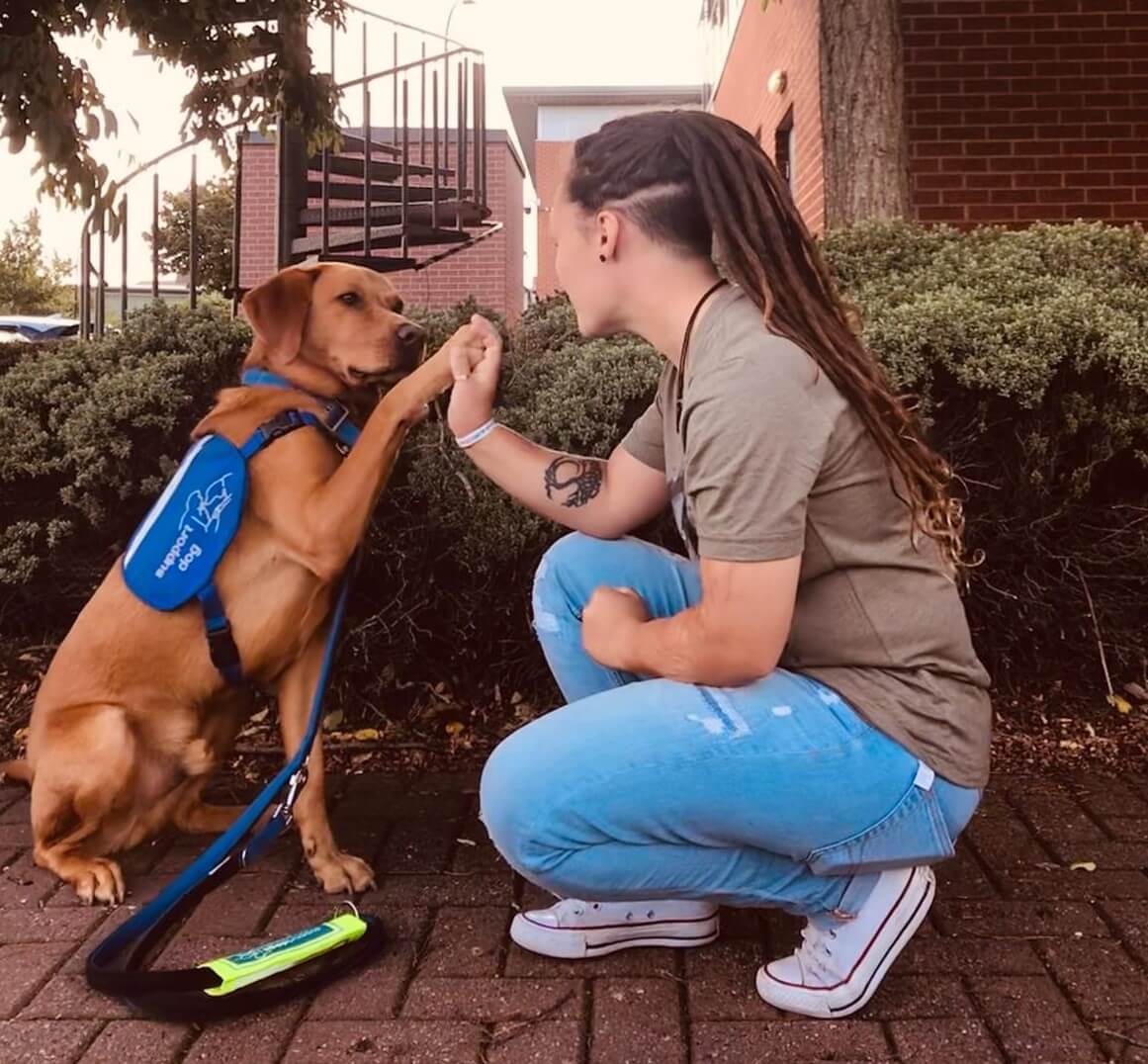 Sometimes, people need a helping hand, or in some cases a helping paw. We spoke to Chris Daykin, to find out all about the amazing work that goes on at Support Dogs. The charity trains and pairs dogs with those that need help the most. Support and assistance dogs can be invaluable in helping improve independence and quality of life for those with disabilities. Read on to find out what the charity is all about!
1. Can you tell us about Support Dogs and the work you do?
Support Dogs is a national charity, founded in 1992 and based in South Yorkshire. We train assistance dogs for children with autism, as well as adults with epilepsy, and adults with a range of disabilities, such as MS, cerebral palsy, and arthritis. Our support dogs enable these people to lead safer, more independent lives.
2. What is a 'support dog'?
Our support dogs (or assistance dogs) are professional service dogs trained to a high standard in order to provide care and support for our clients. We are a member of Assistance Dogs International, which sets international training and welfare standards for assistance dogs.
The Support Dogs charity has three separate training programmes:
Autism assistance
Support Dogs provides autism assistance dogs for children with autism up to the age of ten. The dogs are trained to help keep the child safe and reduce stress in social environments.
Many children with autism have a very limited sense of danger and may not understand the consequences of their actions. They often bolt and run off from their caregivers, putting themselves in danger and often resulting in injury.
We train autism assistance dogs to keep a child safe using a wide range of methods, reducing stress and anxiety for the child's family. We also enable the child to be more independent and provide invaluable companionship.
Epilepsy seizure alert
Support Dogs are the only charity in the UK to train seizure alert dogs for people with epilepsy. The dogs we train provide a lifesaving, reliable warning up to 50 minutes before a seizure, enabling the individual to have the seizure safely and in private, taking control of the situation. It has been reported that having a seizure alert dog can even reduce the frequency of seizures.
Disability assistance
For its disability assistance programme, Support Dogs train clients' pet dogs to perform tasks that are tailored to meet their owner's needs. For example, raise the alarm, open and close doors, and provide help with dressing and undressing.
3. How are Support Dogs selected?
At Support Dogs we don't have our own breeding programme; we source puppies from established private breeders. We pride ourselves on being the charity that gives unwanted pets a second chance as we also source our dogs from rescue centres or Preloved websites. We do not shy away from dogs that may be classed as 'difficult', as we know from experience that given the correct training, home and care, these dogs can become fantastic assistance dogs.
4. What does training look like for a support dog?
Training is intensive and takes up to two years. Puppies live with their volunteer socialisers for just over a year where they learn basic training and obedience. They then get transferred to 'big school' i.e. the training centre, where they undergo general training while living with local foster carers. Once they are matched to a client, they undertake more tailored, specific training at the training centre and later in the client's home.
5. How does someone qualify for a support dog?
For our autism assistance programme, the child must have a diagnosis of autism and be between the ages of three and six. Unfortunately, there is a long waiting list for this programme. To be selected for the seizure alert programme, applicants must be over 16, have a diagnosis of epilepsy and have ten major seizures a month. To be eligible for our disability programme, applicants must have a confirmed physical disability and be over the age of 16.
6. What breeds are used as support dogs?
Many support dogs are Labradors, Golden Retrievers or Lab/Retriever crosses as they respond well to reward-based training. For our disability programme, we have trained terriers, Labradoodles and other mixed breeds – we even once trained a Dalmatian! Each programme requires a certain temperament, so autism assistance dogs tend to be laid back, while seizure alert dogs have to be switched on and alert at all times.
7. How can people support the charity?
We rely entirely on donations to fund our vital work and we receive no government support. The only funding we receive is from charitable trusts and legacies and individual fundraising events, like coffee mornings to challenges and sponsorship. Donations can also be made on our website.
8. Do you work with volunteers?
We couldn't carry out our vital work without its army of 200-plus volunteers, including the puppy socialisers, foster carers, office administrators and helpers at our events.
For more information about Support Dogs go to www.supportdogs.org.uk or visit their social channels, Facebook, Twitter or Instagram. Alternatively, take a look at just some of the work Support Dogs have been doing here.
All dogs, whether pets or dogs with a specific job, need good nutrition. Meatiful is a healthy and delicious choice for your pet; shop our range of lip-smacking flavours today.