Introducing our new grain-free sausage!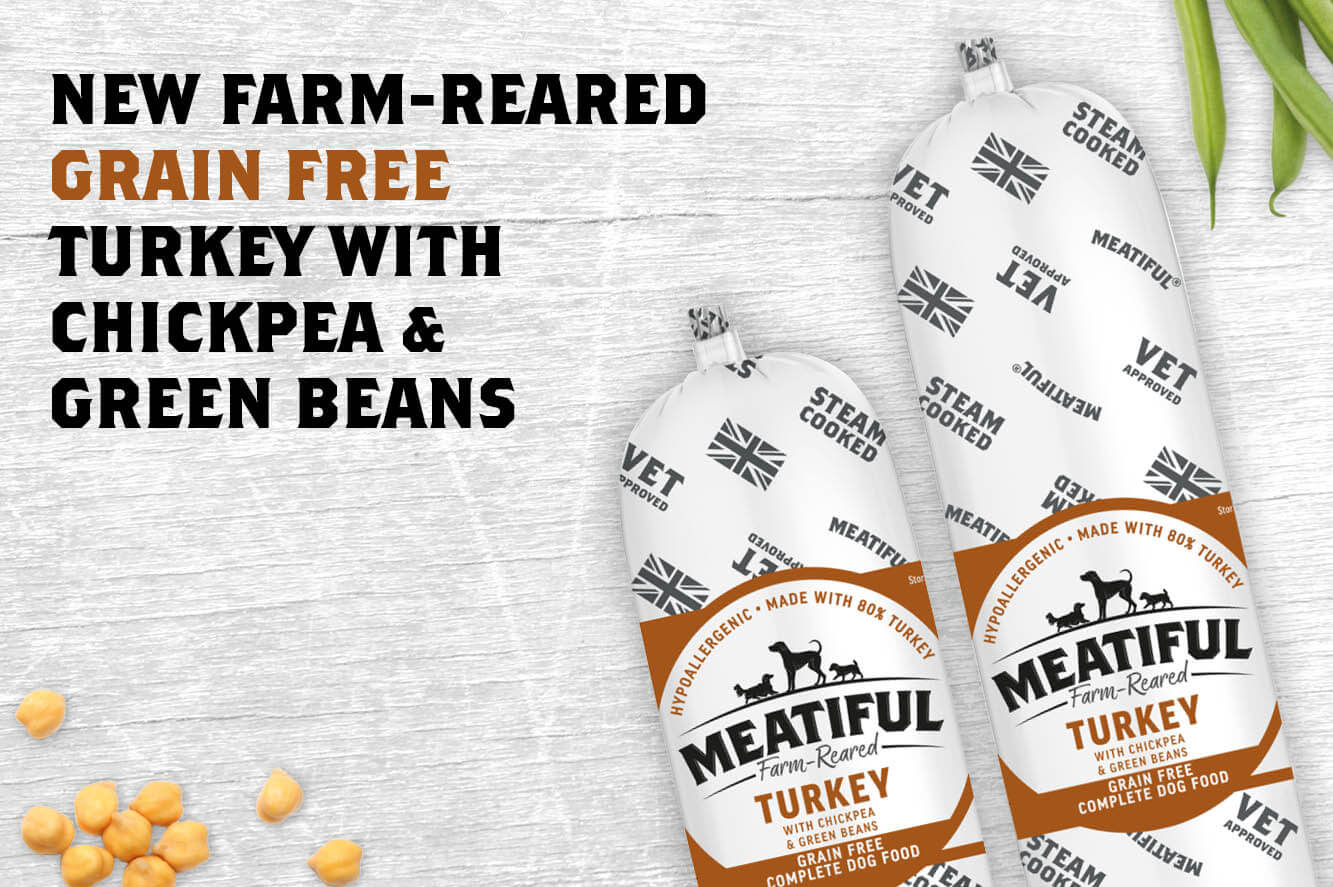 At Meatiful, we are delighted to have launched our new Grain Free Farm-Reared Turkey Sausage, with added chickpeas and green beans. We know how important high quality food is for pet parents; that's why we make gourmet food for dogs, that not only tastes delicious but is extremely nutritious. Our Grain Free Farm-Reared Turkey Sausage is no different, so let's take a look at what makes the flavour so special:
Turkey is a great source of protein
Farm-Reared Turkey is a great source of protein for dogs. Lean like chicken, turkey is a white meat that helps dogs build muscle. It is highly digestible so it's great for dogs who may suffer from sensitivities. Turkey-based pet foods provide a great alternative for dogs who have allergies to common pet food varieties such as beef or chicken-based recipes. Meatiful sausages also contain 80% fresh meat, so you know that your dog is getting the very best. Our recipes are all single-source protein, meaning they contain only one kind of high-quality meat so they are ideal for dogs who suffer from allergies or intolerances.
Grain free recipe that's gentle on tummies
With so many benefits of grain free dog food, it's hard to narrow it down. From healthier coats and skin, to smaller stools, less gas and more energy, the health benefits of grain free food for dogs go on and on. It was really a no brainer to add a grain free sausage to our range of gourmet sausages.
Contains delicious and nutritious chickpeas
Chickpeas are a type of bean and also count towards the human's 5-a-day. But why did we include them in our sausages? Chickpeas help regulate blood sugar and are a great source of fibre, which aids your dog's digestion. Containing Vitamin A, for eye health and Vitamins B & C which are great for the immune system, chickpeas are also delicious! While too many can lead to excess gas, we've added just the right amount to our sausages to provide all the nutritional benefits and maximum taste.
Contains healthy green beans
Chocked full of vitamins and minerals, such as protein, iron, calcium and vitamins B6, A, C and K, green beans offer fantastic nutritional benefits for dogs. They are also a great source of fibre and low in calories, helping balance our sausage recipe perfectly!
Added benefits of Yucca Schidigera
Traditionally used in herbal medicines for its many health benefits, Yucca is used in pet foods for its anti-inflammatory properties and is great for older dogs who suffer from arthritis, dandruff or headaches. Not only that but research has shown, Yucca helps improve stool odour – which is a great benefit for us pet parents!
Packed with minerals
You may have noticed that many pet foods contain minerals but what are they? Minerals are similar to a human vitamin tablet. They are a supplement that ensures your dog's food is full of all of the nutrition your furry friend needs, to stay happy and healthy. While Meatiful sausages contain great ingredients that are very nutritious, minerals help balance the nutritional properties of your dog's food. Too much, too little, or in some instances, an incorrect balance, may result in negative effects on your pets health.

With so many fantastic health benefits, we know your pooch is going to love our new sausages. The new Grain Free Farm-Reared Turkey sausages are available to buy online now.